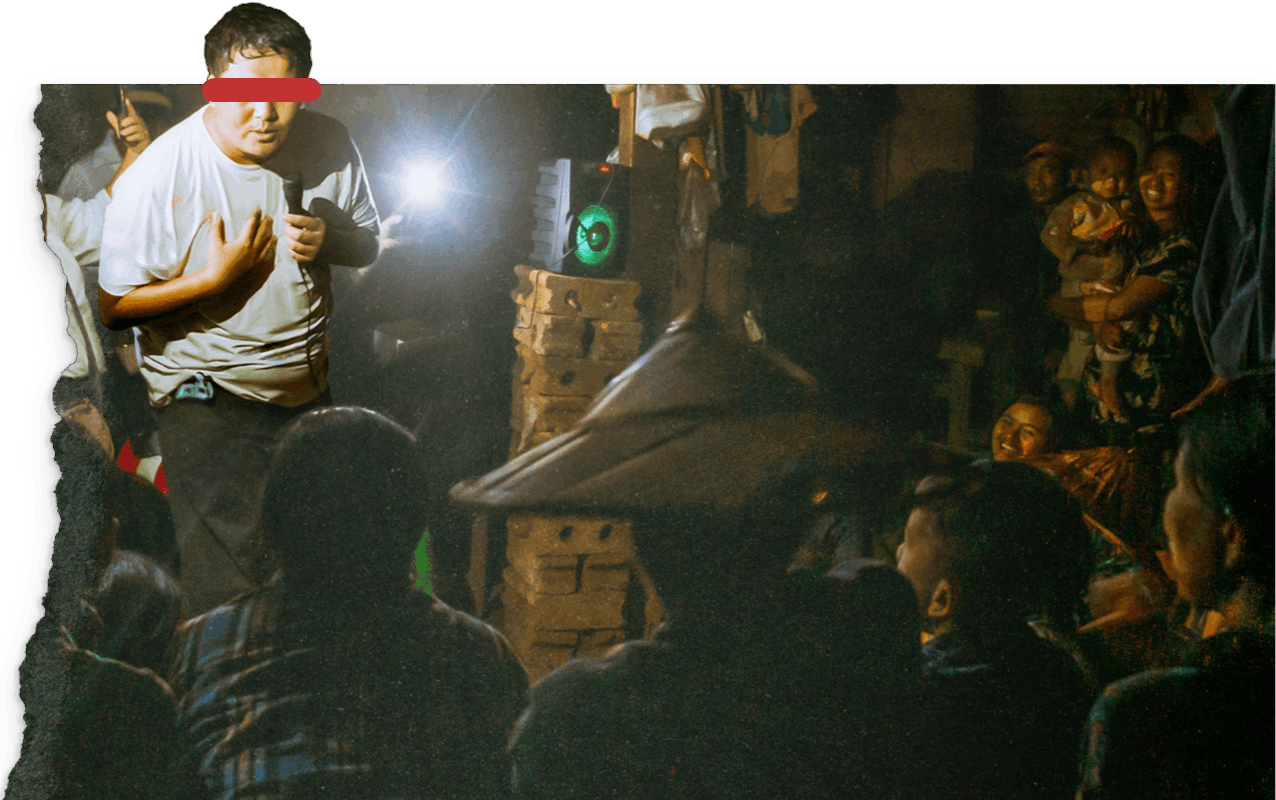 Make Jesus Known
Reach the nations where Jesus is unknown. Join us on a mission to spread the Gospel to the most remote and spiritually dark corners of the world.


The 10/40 window, the most unreached place on Earth
It's an area made up of 7,300 nations...
Where 3.12 billion people are waiting to hear about Jesus
It is the darkest place in the world.
We're not afraid of the dark
Reach the Ends of the Earth
Our Strategy
Everyone deserves the opportunity to hear the life-changing message of Jesus. Yet, there are over 7,300 unknown nations on this planet, made up of more than 3 billion people who have never had access to the Gospel. Together, we are committed to changing that reality!
With your help, Unknown Nations fearlessly embarks on a journey to the most spiritually distant and unreachable places, guided by a strategic approach that ignites hope in the darkest corners of our world.
1. Fortify Strategic Outposts
We pour resources into our 35+ strategic outposts (many with physical structures) throughout the 10/40 window that serve over 1,400 indigenous missionaries. Once our indigenous missionaries make a connection with previously unreachable, zero-access people groups, our teams begin discovery of language dynamics, potential needs, and ways to bridge access.
2. Leverage Humanitarian Projects
We use humanitarian projects to soften hearts in spiritually hostile environments so that they will be more open to the gospel. We never do a humanitarian project in the absence of a gospel distribution:
Emergency Relief
Water Projects
Medical Aid


3. Make Jesus Known
These unknown nations are spoken-word reliant, usually without the ability to read or write. We solve this by distributing solar powered audio Bibles spoken in their heart language (Isaiah 55:11). This tool, often called "The Treasure," is taken into their homes where they become disciples by hearing and studying the gospel in their language for the first time.
4. Empower Church Birthing
Due to the isolated and often dangerous nature of the unknown nations, church planting does not involve a designated pastor moving to a community or the expansion of an existing church. It starts in a small group, fueled by an audio Bible (The Treasure). Its flames are fanned and efforts fortified by our indigenous missionaries who follow up on outreach to help birth the church in the most impossible places (Acts 2:42).
5. Train Leaders
Discipling and training leaders who will multiply is a critical component of our strategy to reach unknown nations. These leaders are equipped to pursue gospel expansion opportunities in the darkest of places as described in 2 Timothy 2:2.
6. Multiply Gospel Exposure
Our ultimate goal is for each nation to establish its own indigenous church planting movement. At that point, we strategically reallocate our resources to bring the gospel to other nations. We then repeat the process with more unknown nations (Romans 15:20) through Strategic Outposts, Humanitarian Projects, Audio Bible distribution, Birthing of the Church, Discipling and Training Leaders until we reach the ends of the Earth.
has become
Learn more about this exciting new season:
We are at the beginning of an exciting new season as Unknown Nations!
Our ministry's core commitment remains unshaken - to faithfully follow the vision God placed on our hearts nearly two decades ago, taking the Gospel to places where Jesus is still unknown. However, we sensed in this new season, God was orchestrating an even better way for us to communicate this vision.
While we are very proud of our past and all God has done through World Mission, we recognized that our name was causing confusion and didn't reflect the singular laser-focus of our ministry. After a prayer filled journey, our name has now come into alignment with the calling God placed on our ministry. This new name will help us steward our vision even better in the years to come!
Thank you for joining us as we're honoring all that God has done in us as World Mission, and pursuing all that God has for us as an Unknown Nations.
Watch the video above to learn more!